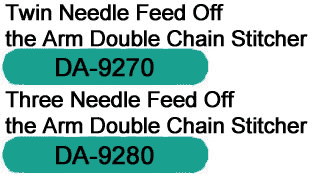 These twin-needle and three-needle double chainstitchers are updated versions of previous models, with improved basic functions. They are ideal for use in sewing cylindrical articles.

The 9270 is ideal for use in sewing thin to medium-thick materials, and also lets you sew attractive balloon stitches onto thin materials, without puckering.
The 9280 is suitable for sewing thick to extra-heavy materials. A tractor-type presser foot which is ideal for folded material can be used to easily ride over thick sections, even 16 layers or more of 14-ounce denim. It can also sew at a maximum sewing speed of 4,000 rpm.
In addition, separate adjustment-type loopers can be easily adjusted, and a movable needle guard effectively prevents skipped stitches from occurring. Improvements such as these in the gauge parts mean that workability is also greatly improved.